Review  Tour China  
On the 20th of november Remy Hansen and I went for an Asian tour in China Shanghai.  The tour was one big party for us. Our tour manager Huang Ruby was an ace for us. She really made us feel at home at the other side of the world! We played our concerts in Shanghai. This was quite some experience…We had some good concerts at the Melting Pot, but our best gig was on our "day off"…We went to Oscar's Pub and start jamming….within' 10 minutes we had the whole place upsite down with songs as Sweet home Alabama, Little Wing….and a lot Jamming…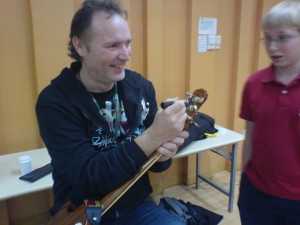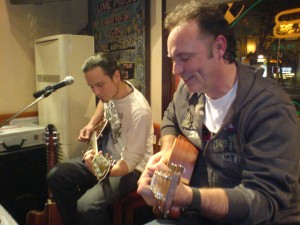 Our masterclass at Dulwich for the talented guitar players of Shanghai was a nice thing to do as well. It was great to play with such a good guitar player as Remy. I am honored to say that we became good musical friends! For an expression of the tour you can see the photo's in the gallery below.  
Remy Hansen will be joining Alex for some jamsessions and masterclasses.
First rehearsel for China………funny……….  
Programme of Shanghai:  
Melting Pot II :Jam session with Remy Hansen and houseband mainly Blues  
 JZ club : Jam session Saturday with Remy Hansen and houseband mainly Blues, house band has been working there for more than 10 years  
Cotton Club : Solo programme for 2x 30 minutes fingerstyle  
House of Blues Jam session with Remy Hansen  
Masterclass at Gibson Shanghai  
Brown Sugar : Solo programme for 2x 30 minutes fingerstyle  
Melting Pot : Solo programme for 2x 30 minutes fingerstyle