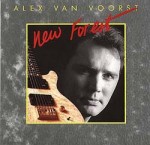 1. a. The Opening (A. van Voorst)
    b. A train journey with mrs. van Doorneveld (A. van Voorst)
2.    Song for Kathy (L. Carlton)
3.   New Forest (A. van Voorst)
4.   Tidur (A. van Voorst)
5. Desert storm 1991 (A. van Voorst)
6. Omega (A. van Voorst)
Kleuren, klanken en gevoelens,
Duizend kleuren wil ik weven
met woorden en muziek!
Kleuren horen bij gevoelens,
teder, trots, melancholiek…
En gevoelens worden klanken,
vormen vaak spontaan een lied.
Soms ontstaan uit pure vreugde
of als neerslag van verdriet…
Klanken, kleuren zijn vibraties,
overal in het heelal
die mij raken en bepalen,
hoe ik reageren zal…
Uit de trilling van mijn snaren
laat ik weten wie ik ben,
klinkt een teken en een boodschap,
voor de wereld, die ik ken…
Klinkt een kreet om hulp en vriendschap,
of alleen maar meegevoel….
Eenzaamheid wil ik verdrijven
zomaar spelen zonder doel…
Kleuren, klanken en gevoelens
zijn verweven met elkaar,
Zoeken mensen, bouwen bruggen,
Stel je open…..luister maar…..