Guitar virtuoso van Voorst captivates the audience
04 May, 2003

van Voorst (left) and Wang (right)
Kota Kinabalu: The name, Alex van Voorst, might not ring a bell to most people in this part of the world, unlike his famous compatriot, Dutch international footballer, Ruud van Nistelrooy. Van Voorst is not a footballer. He is a finger-style guitarist (remember the great Chet Atkins and Tommy Emmanuel?), but one can conclude that he is a "star" with the acoustic guitar, much like van Nistelrooy with the ball. And none can attest to this better than some 400 people who had the opportunity to see the 40-year-old master guitarist in action during a concert at Shangri-La's Tanjung Aru Resort here on Labour Day. In the two-hour concert, van Voorst enthralled the audience with some of his pieces such as "Tidur", "Stealing" and cover versions of his idols Atkins and Emmanuel, proving why he was nominated as Holland's Best Guitarist last year. Clearly, music is universal, as van Voorst instantly clicked with Roger Wang, who is perhaps Sabah's most talented finger-style guitar player, when he invited Wang to jam on stage in the last segment of the concert. Van Voorst and Wang only had one hour of rehearsal for one or two songs prior to that, but they entertained the crowd with their deft skills as some of the numbers were impromptu, which they improvised along the way. Met later, when asked what he was conveying from his music, van Voorst said nothing was more satisfying than to be able to move people to pick up their old guitar from the shelf and play it again after listening to his music. "To get connected with the audience, you must know how to inspire them. It is always satisfying to make people want to get up and pick up their old guitar from the shelf and play it again," he said. Van Voorst, who first picked up the guitar when he was seven, said he always aimed for the highest with his music and likewise when he played in front of his audiences. He talked at length on stage of how he was awed by the efficiency of Tommy Emmanuel, a finger-style guitar guru from Australia, who he admires. Van Voorst who listened to popular band, the Credence Clearwater Revival (CCR), the most when he was young, only switched to finger-style in 2001after being a sessionist. However, van Voorst who conducted a guitar workshop earlier in the day at the same venue admitted that teaching people how to play guitar "is not his cup of tea". His stopover here was the last leg of his "tour" of the country after playing in five venues in the peninsula. It was his first visit to the Malaysia. His concerts were organised by the Netherlands Royal Embassy, National Arts Academy, GIM Music and Instruments Corporation and in Sabah by RAM Studio. Strumming the guitar for 33 years, van Voorst got his breakthrough when he was invited to cut an album with Jan Akkerman, another Dutch guitar icon, in 1996. He recalled that he happened to meet Akkerman in a dressing room and he did not waste the opportunity to give his CD album for Akkerman to listen and give advice to improve his style. But, a week later, Akkerman called up and said he wanted him to record an album together. The rest is history. Since then, he has recorded five albums, which have been selling well considering they are all instrumentals. Asked on his advice for those aspiring to become guitarists, he said: "Play with emotion, you must feel what you play and believe in your music, it doesn't matter if others don't like it."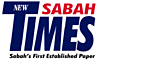 Alex van Voorst strums his way to the heart
By MELISSA LEONG

FINGERS…Voorst (left) and Wang did not fail to amaze
and entertain the crowd with their natural talent.
The relationship between Alex Van Voorst and his guitar can only be defined as true love. The Dutch guitarist has spent a significant part of his life dedicated to playing the guitar and carved a successful career out of it. Thirty-three years after picking up his first guitar, Voorst finally landed on our shores on Thursday to treat Sabahan music lovers to a night of spectacular guitar-playing at Shangri-La's Tanjung Aru Resort here. "What I love most about playing the guitar is that it allows me to play what I feel. And I am able to put emotion into my music," he said. An expert on finger style and bottleneck guitar techniques, Voorst started off with playing the electric guitar in his earlier days but realised its complications. "I was a session musician for many years and I love the electric guitar but the problem is you need a band," he said. "So it was in 2001 when I switched to finger styles," said Voorst, who learned to play on his own

Jeffrey presenting the anatomy of making
guitars to a captive group of enthusiasts.
When he was 15, his fascination with the guitar grew and a dilemma arose. "At that time, I realised that playing the guitar was all I was good at. So I had to decide whether I wanted to focus on school or put my energy into music. The problem was that I realised that it was difficult to make a good profession out of music," he said. But with unwavering passion and sheer determination, Voorst pursued his dream and never looked back. After 1996, he had the honour of meeting Jan Akkerman, a renowned and award-winning Dutch musician. He passed one of his CDs to Akkerman and asked if he would be so kind to listen to it so that he could advise how to improve his guitaring. A week later, Akkerman called back and asked 'Why don't we make an album together?' "It was like a dream come true," Voorst said. Having produced an album with an established and well-respected musician such as Akkerman had opened the doors for Voorst. "In Holland, there is this perception that if you record an album with someone famous, you must be very good," he said. "I feel I have been blessed with luck in the industry so far." Although Voorst attributed the successful beginning of his career to his meeting with Akkerman, his talent is undeniably the main reason he leaves a mark in the music industry today. He cited guitar-greats such as Chet Atkins, Tommy Emmanuel, Larry Colton and Creedence Clearwater Revival as some of his influence and favourites. Voorst recently performed five concerts in Malaysia with Sabah being his last stop before heading back to Holland where he will record his next album.

Voorst plays one of his original pieces for the audience.
He added that playing in Malaysia has been a wonderful experience than many other places he has been to. "For one, the crowd is more enthusiastic than the Europeans and I find that great. In fact, when I played in Auditorium DBKL recently, I played an extra half hour because the crowd just kept cheering me on" he said. "When I play, I try to make a connection with the crowd. I try to say something and inspire them and always aim to give my best in every performance," he added. Voorst's advice to budding musicians? Play with your heart. "If you play without dedication and emotion, the music loses its strength. You must believe in you own music and it doesn't matter if other people don't like it," he said. Those who attended the concert were given a special treat when Roger Wang, Sabah's own guitar maestro, joined Voorst on stage. The duo entertained the crowd with classic favourites and original pieces as well as an impromptu 'jamming' session, which proved that the pair were true-blue musicians. Earlier in the day, Voorst conducted a guitar workshop along with Jeffrey Yong of the Guitar Institute of Malaysia (GIM) at the same venue. Yong, a guitar player for more than 10 years, presented a talk on modern and traditional guitar making to some 50 guitar enthusiasts. The concert and workshop was jointly organised by the Royal Embassy of Netherlands, National Arts Academy, GIM Music & Instruments Corporation and RAM Production Sdn. Bhd.